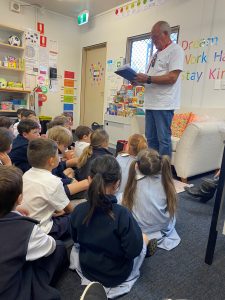 Students at St John's Catholic Primary School at Narraweena were excited to welcome a very special guest to the school on Friday 23 April.
Mr David Thompson, a member of the Australian Armed Forces and Vietnam Veteran, visited the Year 2 students and spoke about the meaning of ANZAC Day. The children learned about ANZAC Day as being a day to remember, paying our respects and being thankful for those who have served in conflicts across the world. Mr Thompson told the children about his service in the Vietnam War and showed them the medals he earned as a result. The children were enthralled to hear his stories, particularly about his friend and hero, "Andy".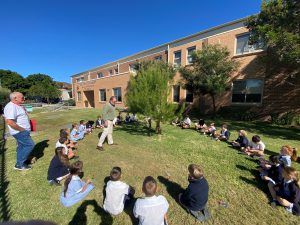 The children gathered for a special prayer with Mr Thompson around the Lone Pine tree at the front of the school. The tree was grown from a sapling the school received in 2015, on the 100 year anniversary of the Gallipoli landings. During the prayer, Mr Thompson thoughtfully presented each child with a poppy and a commemorative ANZAC Day pin.
Mr Mark Bateman, Principal of St John's Narraweena said "We were honoured that Mr Thompson visited our school as part of our activities and lessons around ANZAC Day. He shared many stories about bravery and also about Simpson and his donkey. The children were thrilled to meet Mr Thompson. Having this experience with a Veteran, a grandfather of their teacher, made a special impression on them. They proudly wore their ANZAC Day pin and poppies for the rest of the day and took them home to wear again on Sunday's ANZAC Day."