Our Stage 3 students have been investigating our responsibilities towards creation – and the fact that we are need to be doing a much better job! Creation means the environment and the people around us and we were stunned to realise just how wealthy Australia is in terms of the rest of the world.
Even worse, is our environmental footprint – we use (and waste) so many of the planet's resources. When we do that, not only are we not caring for creation, but we are using resources that should be shared with others – the poor.
So what can we do? Have a massive lifestyle change? Sure! Or, we ccould just start with small things…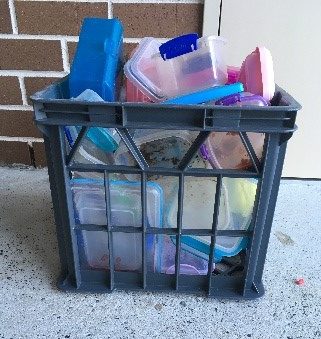 This entire crate of plastic containers is going to be sent to landfill today.
Not one of them has a name on it, and no one has come to look for them for over a week.
There are eight jumpers in lost property that either have no name or old names of students who have left the school. They are going to the clothing pool today.
HOW CAN YOU MAKE A DIFFERENCE?
SIMPLY LABEL YOUR CHILD'S BELONGINGS.