"While our schools rely heavily upon the support of our families, I have asked that at this time, we do all we can to support those suffering immediate financial hardship. It is with this in mind, I have approved new initiatives that will be implemented immediately, and are targeted specifically to families in greatest need, as a result of financial stress."
Bishop Anthony
ENROL NOW FOR 2021 and beyond
Families interested in enrolling in our school are invited to contact the school for an individual tour – 9971 9297 or sjan@dbb.catholic.edu.au.
Mr Bateman, Principal of St John's Narraweena has recorded this video message to welcome the 2021 Kindy students.

Mr Bateman's Welcome Message – 14 Sept 2020 from St Johns Catholic Primary School on Vimeo.
Enrolment packs are available from the school office or forms can be downloaded below.
In order to complete the enrolment process, the following items will need to be provided:
Enrolment form (signed by both parents)
Birth Certificate (originals must be sighted by administration staff and copy included with enrolment form)
Baptism Certificate (originals must be sighted by administration staff and copy included with enrolment form)
Immunisation History Statement (available from MyGov/Medicare)
Church Life Involvement Form
Non-refundable Enrolment Fee of $88 (required upon receipt of the completed enrolment form)
Passport, visa, citizenship documentation (if applicable)
Most recent school report (Years 1-6)
Family Court Orders (if applicable)
Medical or other reports (if applicable)
Enrolment Documents:
Enrolment Application Form 2020
Church Life Involvement Form
2020 School Fees
Fee Relief Letter
A non-refundable application fee of $88.00 is payable at the time of application. We accept cheque, cash or alternatively EFTPOS facilities are available at the school office. Cheques must be made payable to 'St John's Narraweena' and attached to your enrolment form.
The Diocese of Broken Bay Enrolment Policy is implemented by all systemic schools in the Diocese. The implementation of this policy is monitored by the Catholic Schools Office. A copy of this policy may be obtained from the Catholic Schools Office website.
Please do not hesitate to contact the school should you have any questions regarding the enrolment process sjan@dbb.catholic.edu.au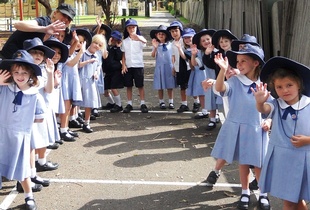 COVID-19 Fee Relief
Catholic Schools Broken Bay are committed to supporting families as the impact of COVID-19 continues to be felt in the community. No family will be excluded from our school because of financial difficulties.
Even if you have not enrolled yet, we would like to offer the following help with school fees if you need it:
A full reduction on ALL fees if your family gets JobSeeker.
A 50%+ reduction on ALL fees if one parent in your family gets JobKeeper.
If you are unsure if your family can get fee help or need assistance completing the form please contact our COVID-19 FEE HELP HOTLINE on 9847 0728 (8am – 4pm Monday to Friday).
Please find the 2021 Fee Relief Request form here and return to us at schoolfees@dbb.org.au