13/08/2018 - 6:30 pm
Location: St John's School library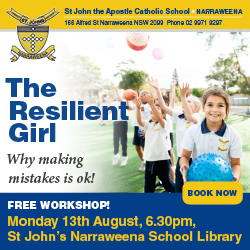 Parents of girls aged between 7 and 10 are invited to join us for a free workshop, run by our Family Liaison Officer, Jeanie McDonnell, on Monday 13th August.
'The Resilient Girl' is a workshop for parents to support their children to develop resilience and the ability to 'bounce back'. Learn why making mistakes is ok!
Click on the link below for more information on the workshop and book your place for this free event!
* Workshop is open to the public, your child does not need to attend St John the Apostle.
The Resilient Girl - flyer
Click here to book - use the code 6km6m