In August this year, St John's participated in CatholicCare's Diocesan fundraiser – Homelessness Week. We raised much needed funds for Mary Mac's Place at Woy Woy. Our contribution enables their valuable work to be continued.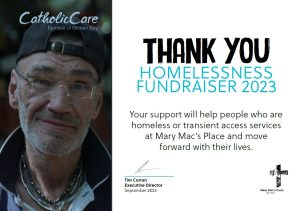 26 September 2023
To the wonderful school community of St John the Apostle Catholic Primary School,
Thank you for supporting CatholicCare's Homelessness Week Fundraiser.
I would like to express my sincere thanks for supporting CatholicCare's Homelessness Week fundraiser in August.
Your school raised a total of $379.00, which will allow us to continue supporting some of the most vulnerable people in our Diocese.
Mary Mac's provides people who are homeless or transient a place to connect with others over a meal, have a shower, wash their clothes, and access pathways to homelessness support services and health assistance.
Your support helps our companions to move forward. Many are only a pay cheque away from financial difficulty and it's so important to have somewhere like Mary Mac's to go to, during these difficult times.
Mary Mac's Place does not receive any formal funding. The work continues through the generosity of the community in providing donations and grants.
We are incredibly thankful for the support of your school. Without your generosity CatholicCare would need to turn many people away.
Yours in Christ,
Tim Curran
Executive Director
CatholicCare Diocese of Broken Bay
Certificate of Appreciation
Thank you St John the Apostle Narraweena